Topp Up is a flavoured milk with extra proteins. The protein gives you extra energy & strength whenever & wherever you need it. This is made from Fresh cow's milk. Topp up is available in six distinct Indian flavours i.e. Elaichi, Mango, Rose, Strawberry, Pista & Butterscotch. It has long shelf life at room temperature.

Most of the calcium in milk is not bound up in the fat globules that are removed when 'skimming' the milk, but rather in the water content of the milk.
Did you know?
Average Dairy Cow gives 2,00,000 glasses of milk during her lifetime.
Did you know?
A glass of milk provides protein Calcium Vitamins.
Did you know?
Milk is a super drink as it is great for our bodies and minds.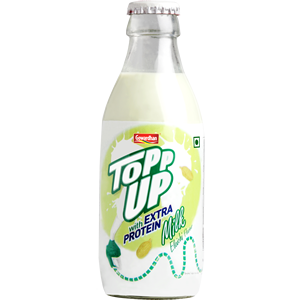 Topp up Flavoured Milk
Available Flavours - Rose, Mango, Elaichi, Strawberry , Butter Scotch, Pista
Milk Bases instant energy drink made from fresh cow's milk, unique in taste , available in 6 distict indian flavours.